UF PRO® STRIKER XT GEN.2 COMBAT SHIRT
SKU:

UFSXT2SH

UPC:

3831121828542

Brand
Description
UF PRO® STRIKER XT GEN.2 COMBAT SHIRT
THE MOST COMFORTABLE SHIRT YOU'LL EVER WEAR
UF Pro's combat shirts offer ruggedness, comfort and fast-drying properties.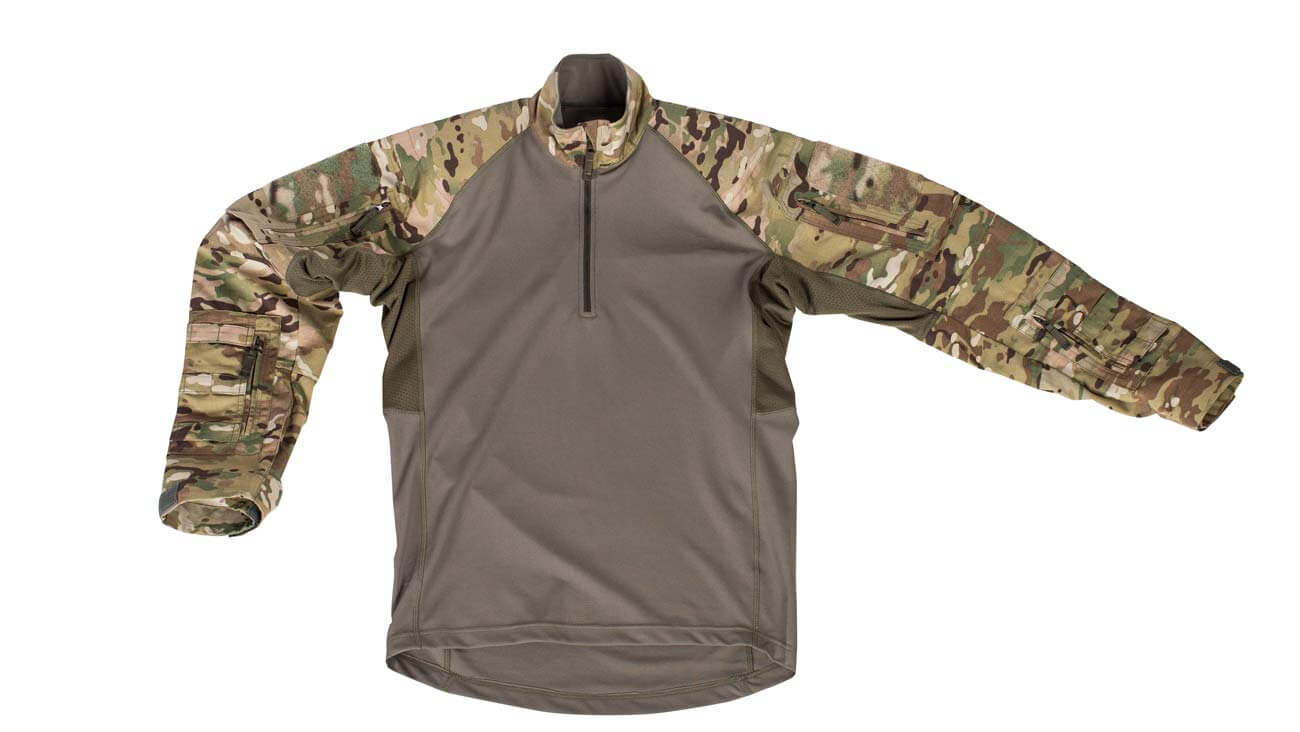 The sleeves use a rugged and breathable ripstop, the torso is an abrasion-resistant knit, and the armpit area is an anti-odor Merino/polyester fabric. Mesh material protects the Merino/polyester section of the shirt.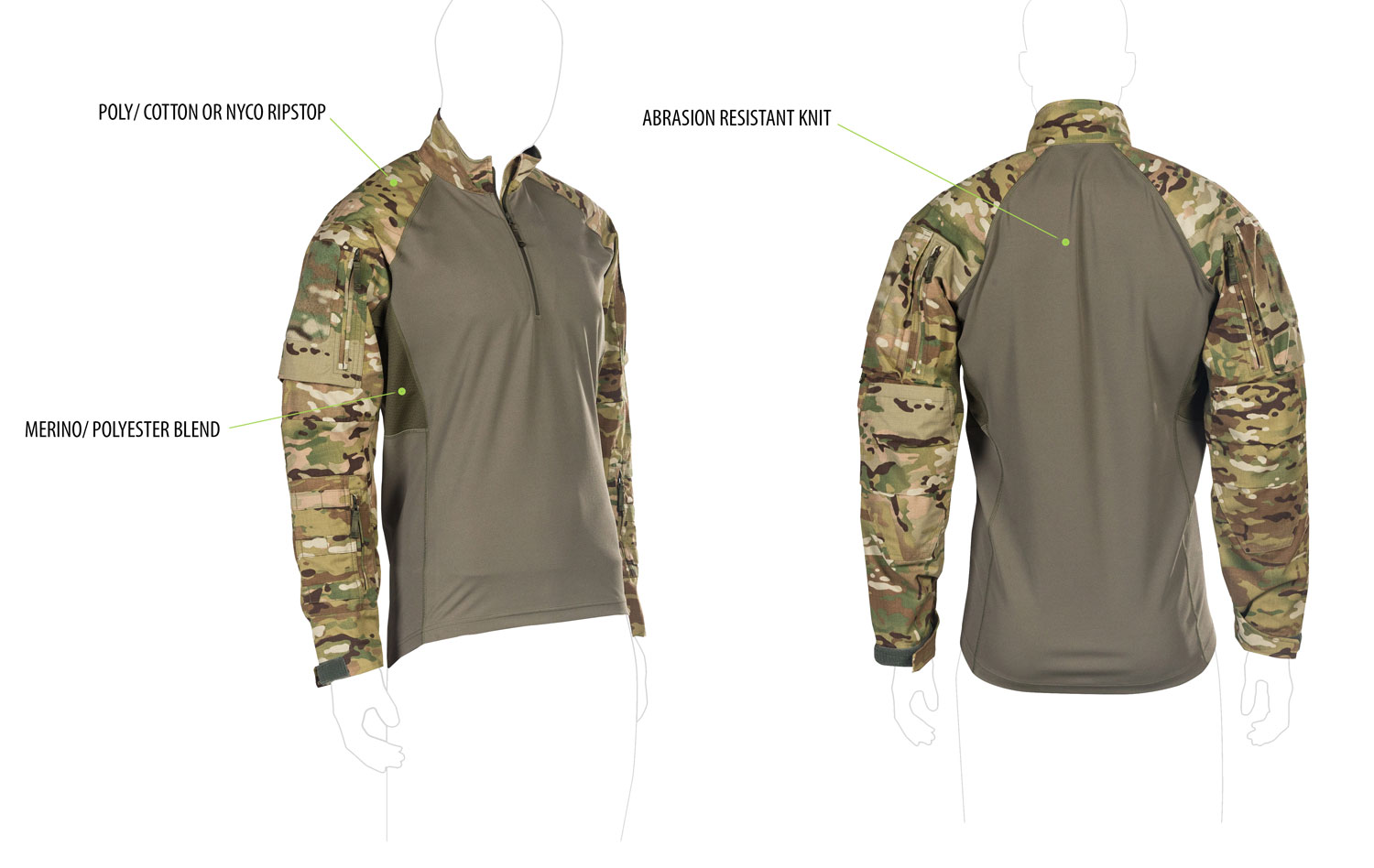 The detachable UF PRO® air/pac® inserts in the shoulder area offer weight distribution for those carrying a plate carrier or a heavy backpack. The 8 mm thick air/pac® inserts add air-flow, allowing it to dry fast.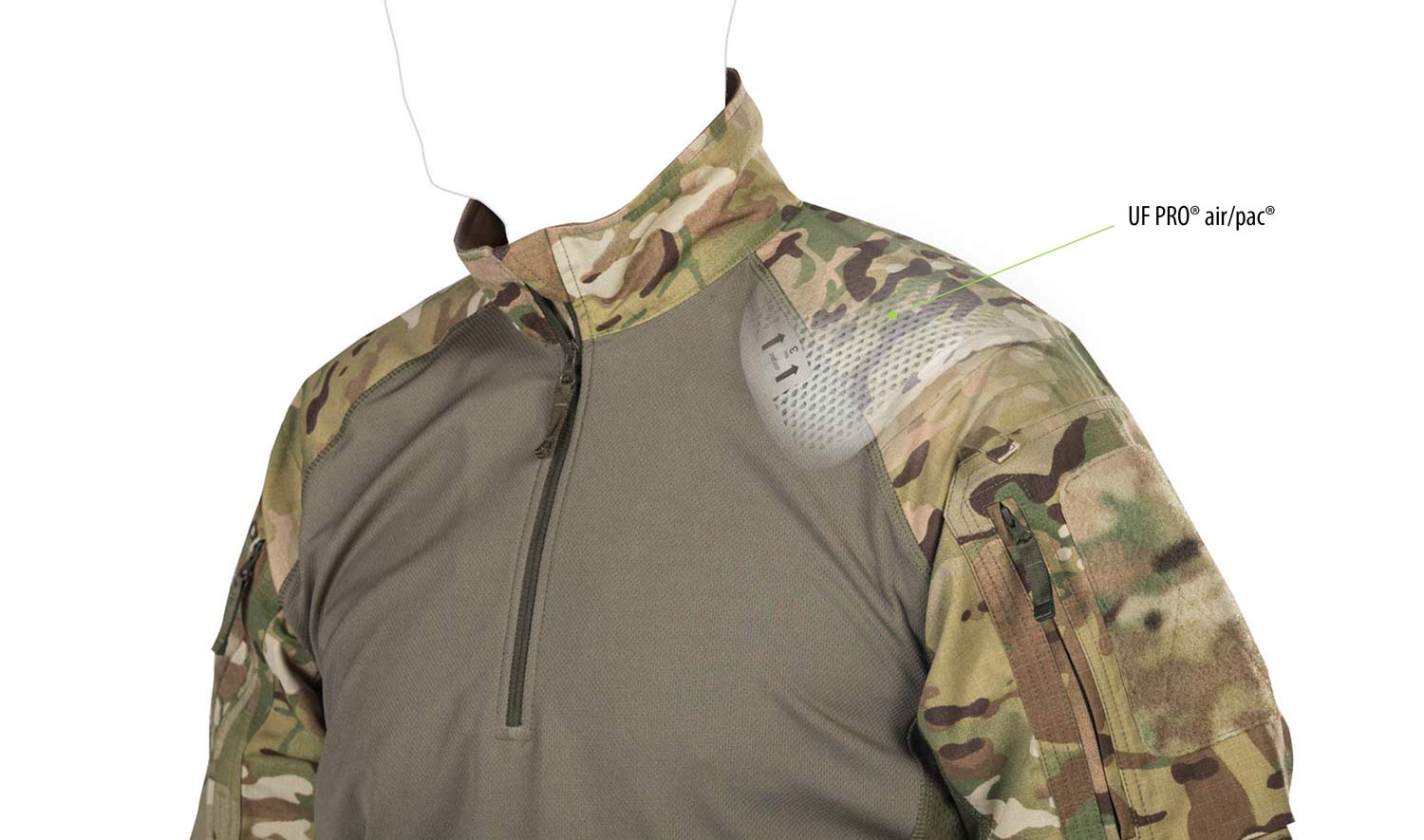 KEEP YOUR ESSENTIALS CLOSE
The Striker XT Combat Shirt offers the ˝Striker˝ sleeve pocket configuration, which consists of two upper arm and two lower arm pockets.
Those having problems with opening the upper arm pocket, can ˝bite˝ the strap and get the necessary tension to open the zipper.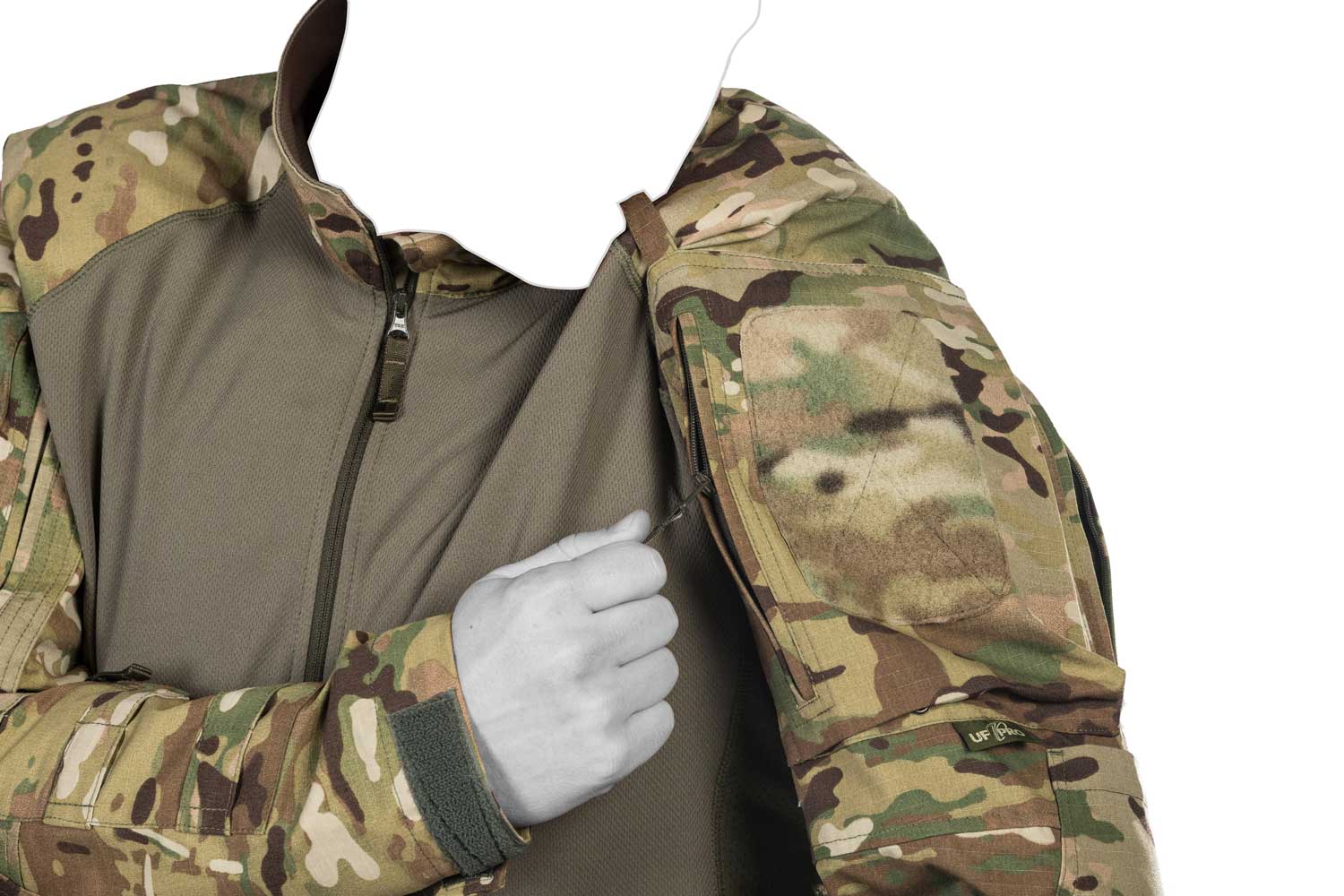 The lower arm pocket has an additional strap inside the pocket, which is perfect for smaller objects, like a pen or compass. A MOLLE system attaches on top of the pockets, which makes it possible for any MOLLE compatible pouch to attach.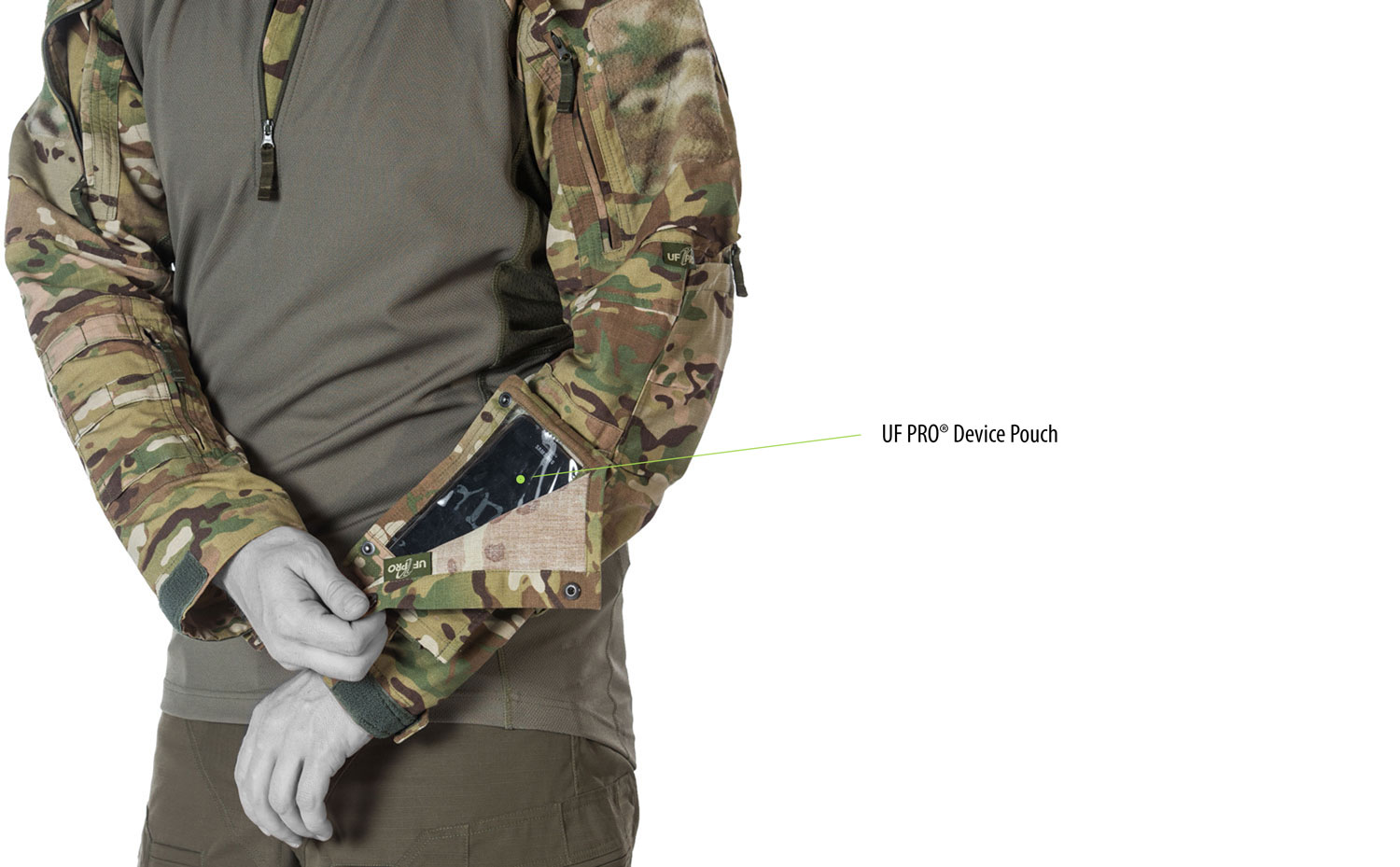 "FIRE AND FORGET" ELBOW PROTECTION
UF Pro designed this shirt with ergonomic sleeves, which makes sure the UF PRO® Flex Elbow Pads always stay in the right position, without needing to strap them in place. Since the pads are flexible and lightweight, they are only noticeable when used.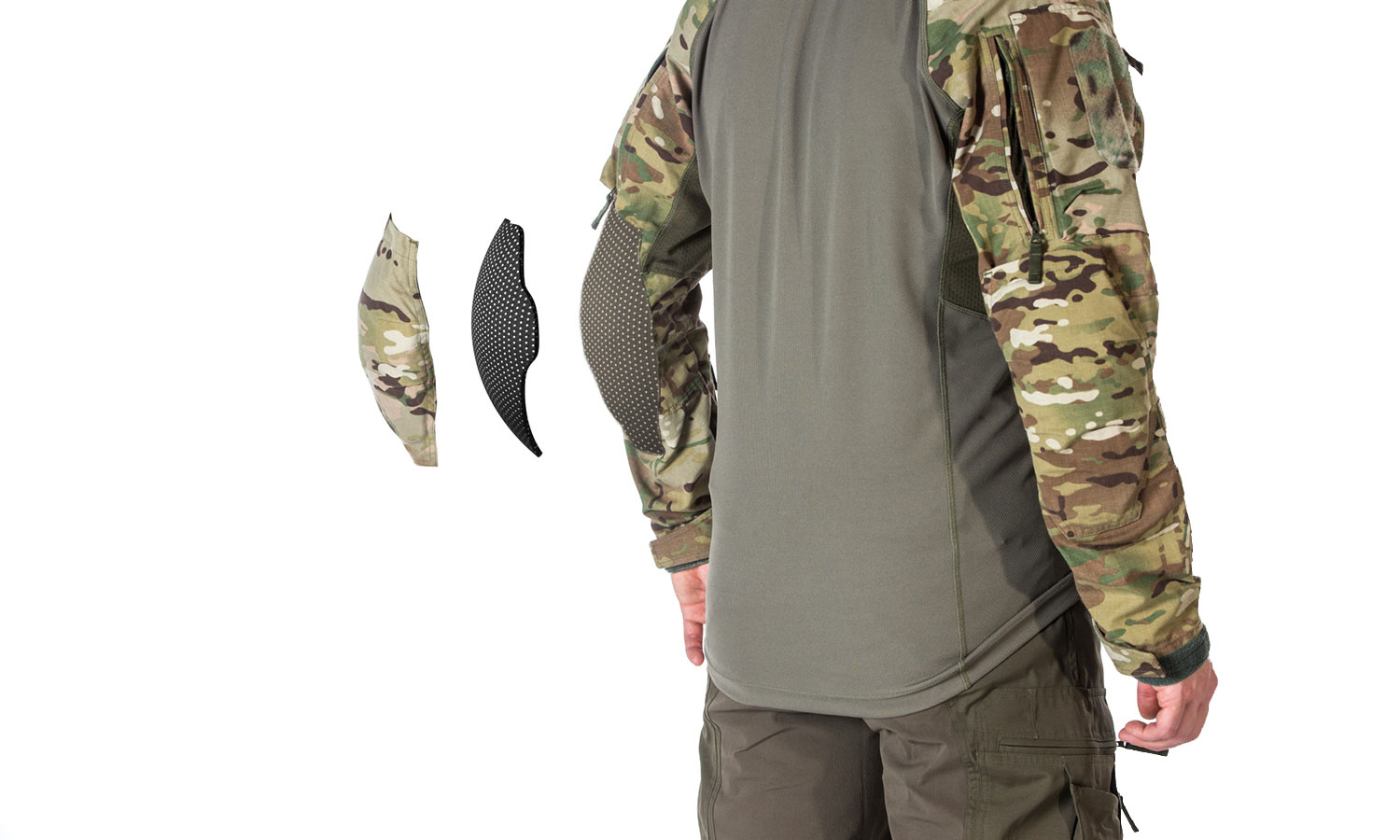 KEEP COOL WHEN IT GETS HOT
UF Pro integrated ventilation zippers on the back of the upper sleeve area, to provide cooling airflow. Those that want to roll up their sleeves can easily do so while keeping their air vents opened, providing an almost T-shirt like feel.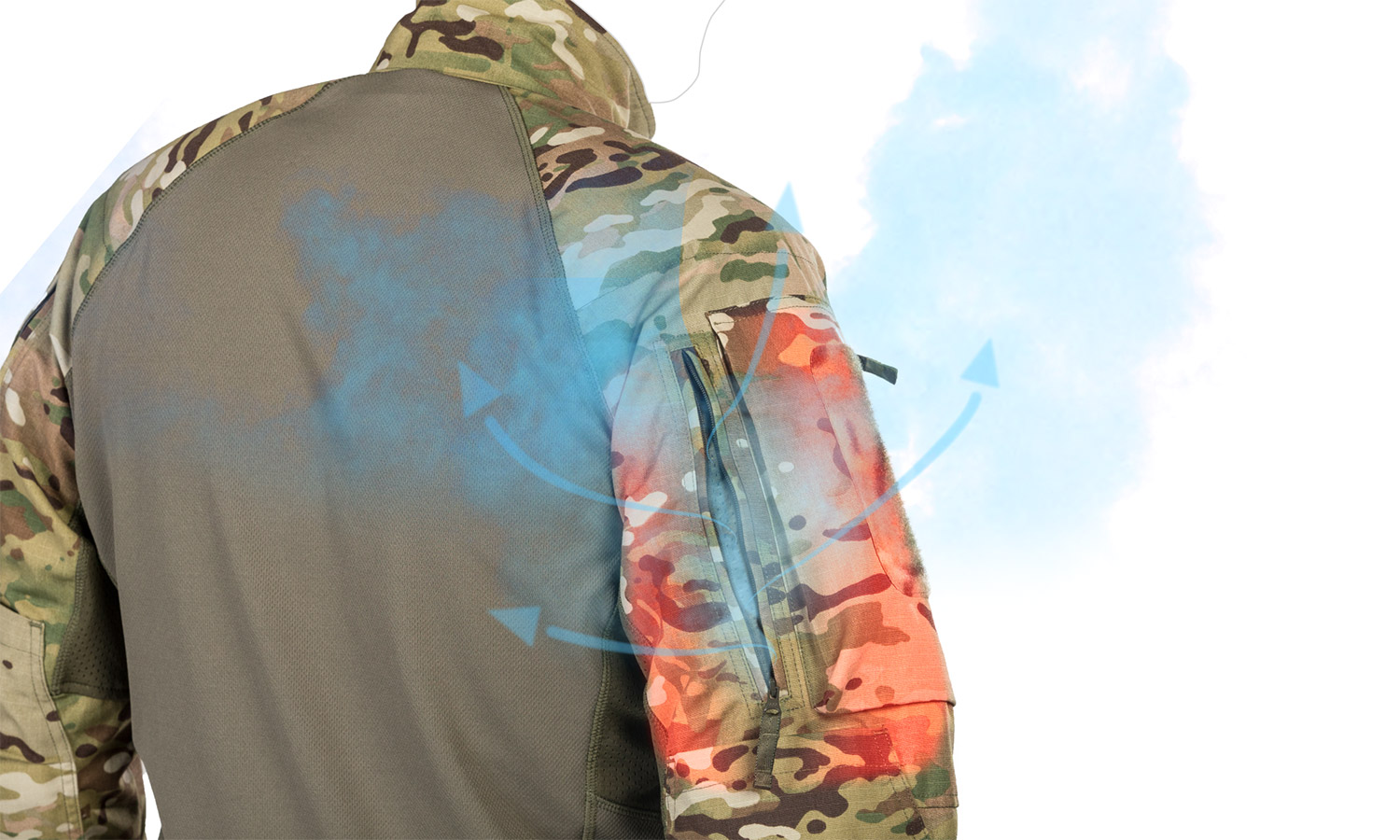 FEATURES
Extra-long front zipper

Ventilation zippers on the upper sleeve area

UF PRO® air/pac® inserts in the shoulder area

Ergonomic sleeves, easy to roll up

Abrasion-resistant and fast drying knit in the torso area

Anti-odour Merino/polyester fabric in the armpit area, reinforced with a breathable nylon mesh

Pocket configuration:Soft lined inside collar

2X large upper arm pockets with Velcro and an additional strap for easy opening
2X lower arm pockets with elastic straps inside the pocket and MOLLE on top of the pocket for attaching a UF PRO® Device Pouch

Sleeve width regulation

Slide-in pockets for UF PRO® Flex Elbow Pads
WEIGHT
0,50 kg (size L)
MATERIALS
RAL 7013 Brown-Grey and Black

67% Polyester, 33% Cotton Ripstop material

Polyester/Merino

100% nylon mesh reinforced armpit area

100% Polyester
MultiCam® and PenCott™ GreenZone
50% Nylon, 50% Cotton Ripstop material

Polyester/Merino

100% nylon mesh reinforced armpit area

100% Polyester
Flecktarn
35% Polyester, 65% Cotton Ripstop material

Polyester/Merino

100% nylon mesh reinforced armpit area

100% Polyester
Customer Reviews
I bought this in slocam as it isn't as dark as woodland marpat and not as light as ocp. Perfect blend for the south west. Shipping was fast. The vent pockets on this top are awesome. Next pay check I'll be buying the pants. Do yourself a favor but don't let the wife know. Well worth the money.

UF Pro Striker XT GEN.2 Shirt

First off. Because UF Pro products are made in Slovenia, their American sizing is a little different. I called Anarchy Outdoors to make sure I was ordering the proper size, and they confirmed yes, I needed to order one size up.

The Striker XT GEN.2 Combat Shirt is fantastic, and it is top tier right there with Crye Precision, Arc'teryx, Tru Spec, etc. You get what you pay for. I am a veteran who maintains my edge, and I needed something that would be durable and usable in both tactical and non-tactical situations, e.g., hunting, outdoors, etc.

The fit is perfect, thanks to Anarchy Outdoor's assistance. The build quality and stitching are top-notch—a combination of buttons where tactical silence is necessary and zippers in other areas, and there is velcro for the sleeves. Most importantly, UF Pro products are "No-Melt/No-Drip." People need to understand that this does not mean any tactical clothing with these properties won't burn. None of these is flame retardant certified, regardless of the manufacturer, entirely different.

This is the first time I ordered something from them direct. The service was perfect, and I have no complaints. NOTE: I left a similar 5 star review when I ordered something else from Anarchy through a 3rd party vendor.

The shirts are very good quality in my opinion. After trying them out myself I recommended everyone on my SWAT Team be outfitted with them, which we were.

Very comfortable, fits perfectly. Happy
Write a Review